How to Register An Account
Is there a subscription fee to register in HAVA.id?
no charge at all
Can I make transactions without registering first?
Sorry, you have to register first. After that, you can see the price of the product to continue the transaction.
How to become a buyer and register at HAVA.id?
To become a buyer at HAVA.id, here are the steps:
1. Click the Account icon on the top right on the hava.id website or visit https://hava.id/register.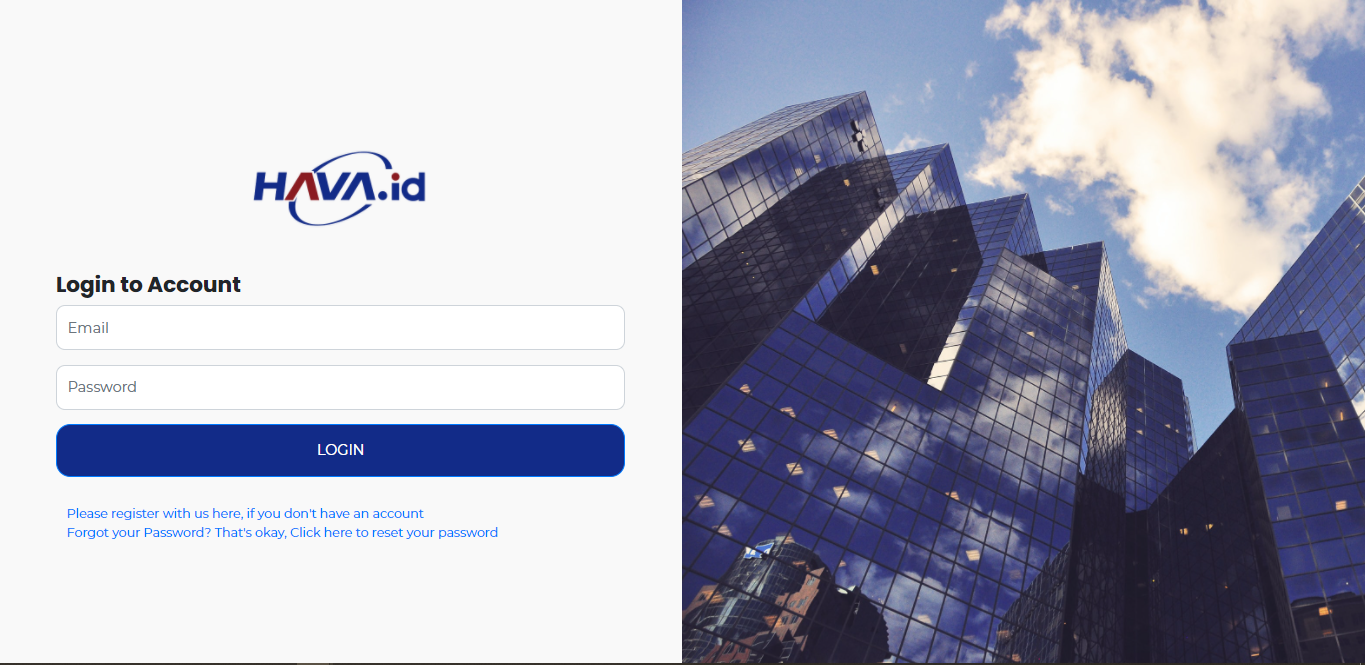 2. Fill the registration form, then click Register Now.
3. Please make sure the username and email you enter are correct and there are no errors at the time of writing because the username and email cannot be changed.
4. Make sure you upload the company legal documents correctly.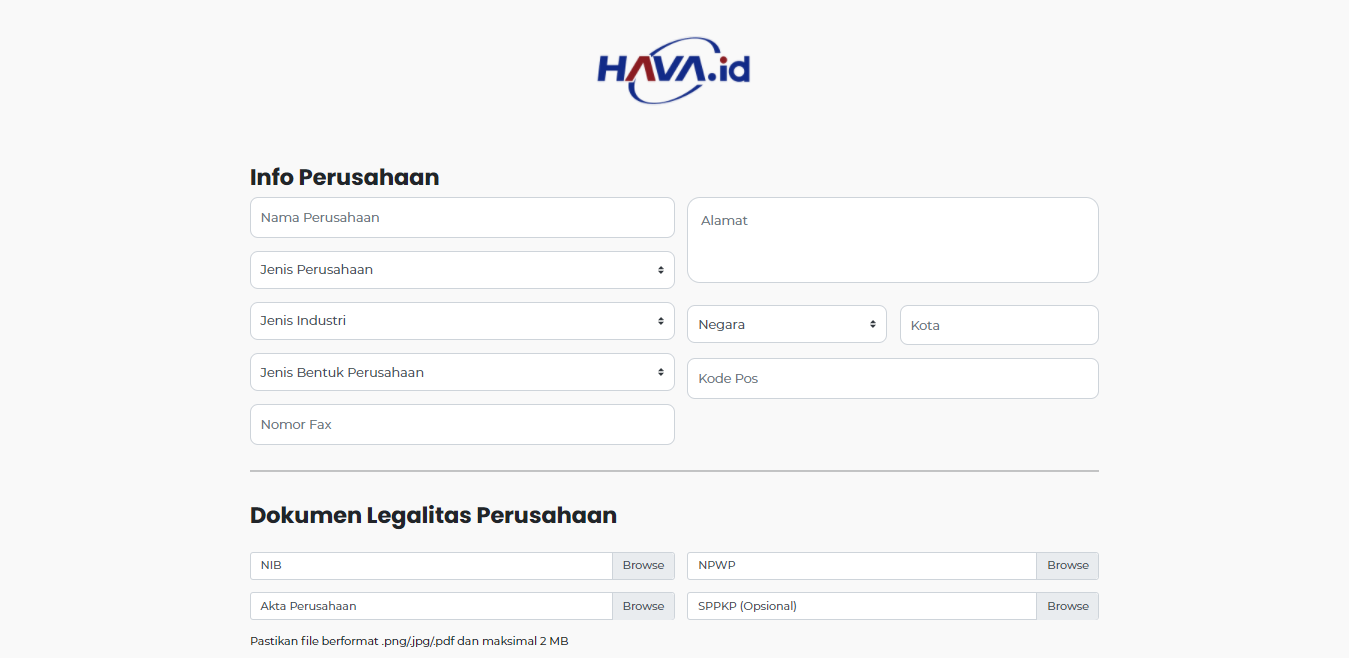 5. Our team will verify the data you just entered and you will be notified once our team activates your account
6. You will receive an email form HAVA.id that your account has been activated
7. Congratulations! You have just registered an account.
How To Login
To do login, you can navigate to the login page by clicking the User icon on the top right on the HAVA.id home page or visiting the following link https://hava.id/login .
Enter your email and password correctly then click the "Login" button.
The system will verify your account and direct you to the home page.
Forget Password?
What if I forget my password?
Don't worry, you can change your password
How do I change my password?
To change your old password to a new one, you can follow these steps:
On the login page, click the "Forget your password?".
Fill in the email address you used to register.
The system will send a link to the email address you entered.
Open the email from hava.id then click "Reset Password".
Enter the new password you want.
Finished.
How to Order
How do I place an order or shop at HAVA.id?
It's quite easy, just follow these steps:
1. Find and select the product.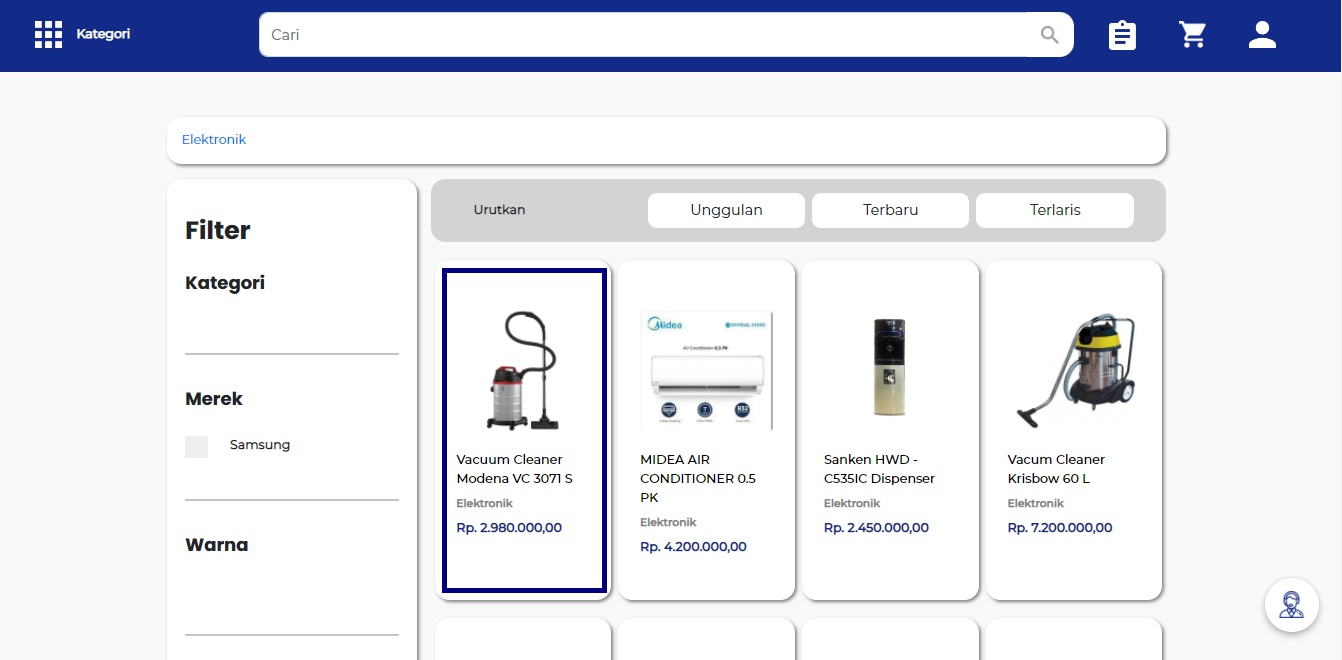 2. Click the "Order Now" button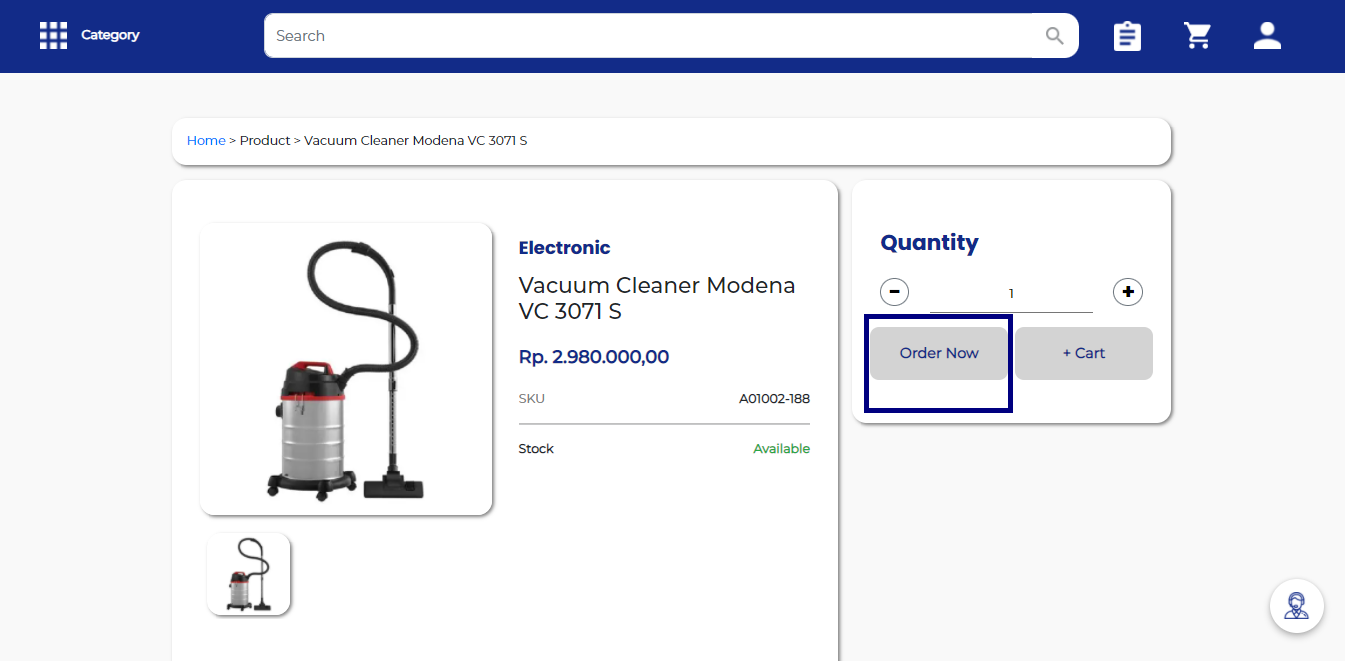 3. Enter the correct shipping address, then press the "Order" button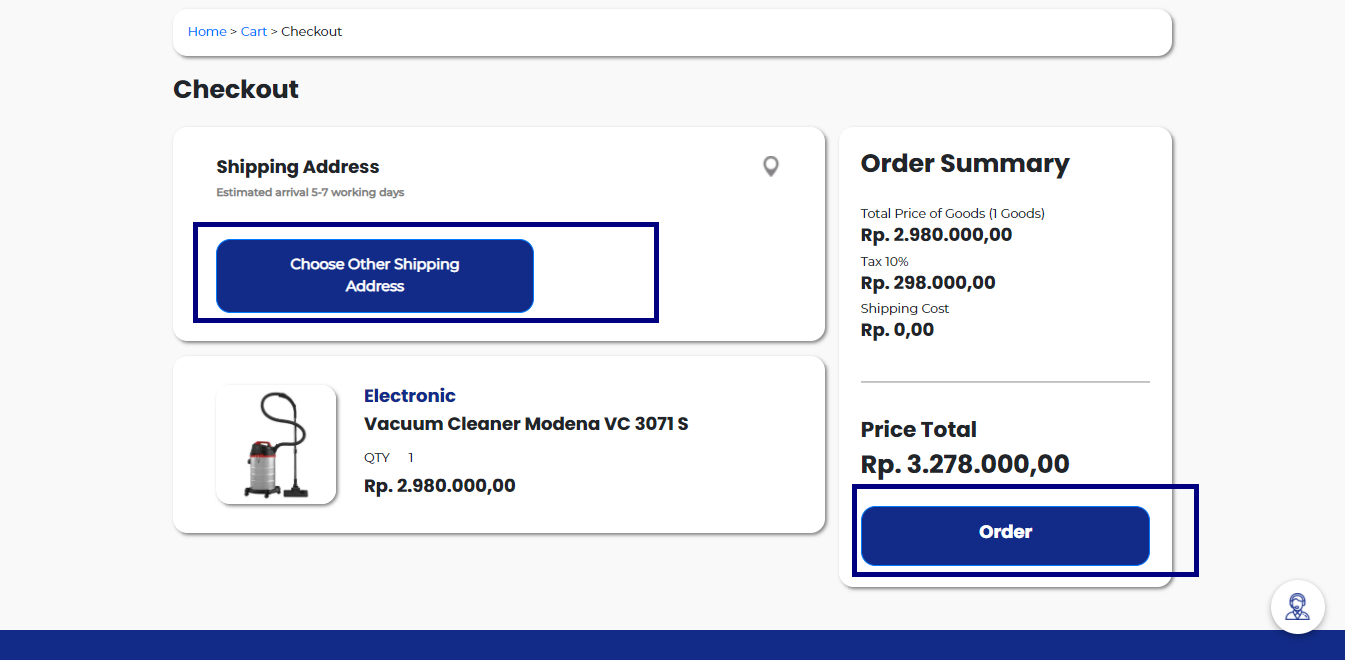 4. Congratulations, your order has been received and will be processed by admin. You can see your order details by pressing the "Transactions" button.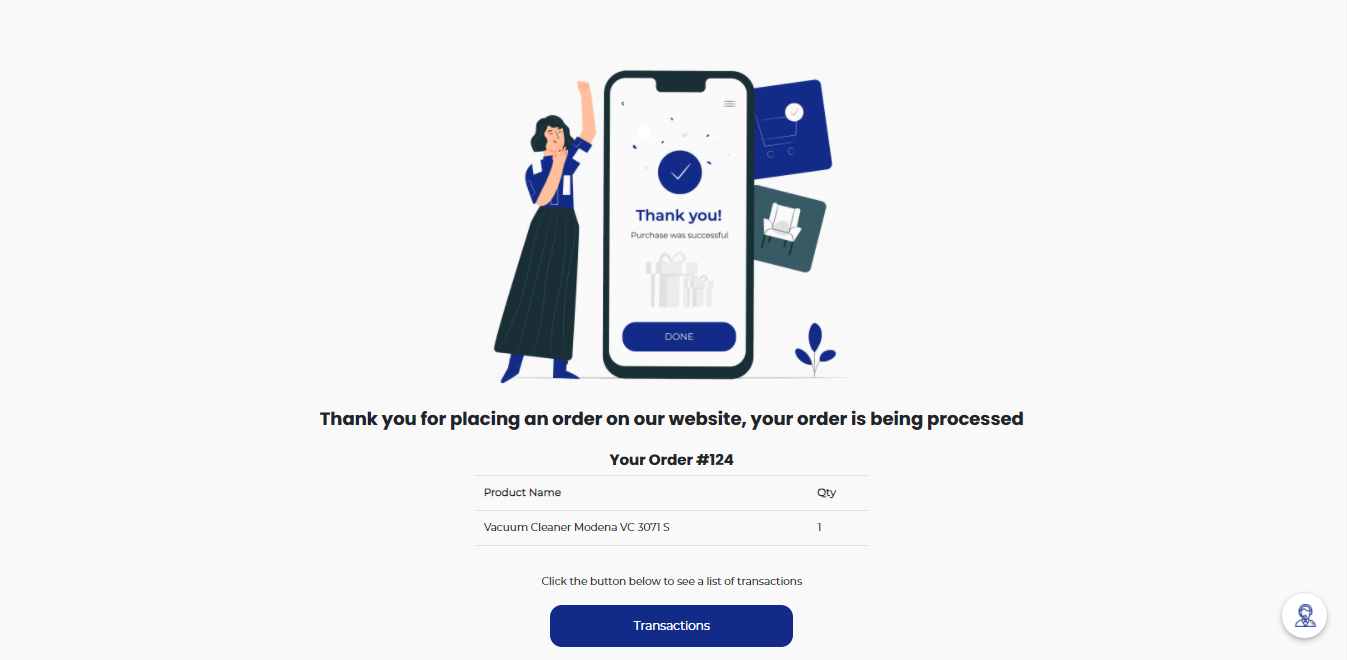 Order Status
How can I check the status of my order?
To check the status of the order, go to "Profile" page by pressing the "User" icon or clicking the following link https://hava.id/profile.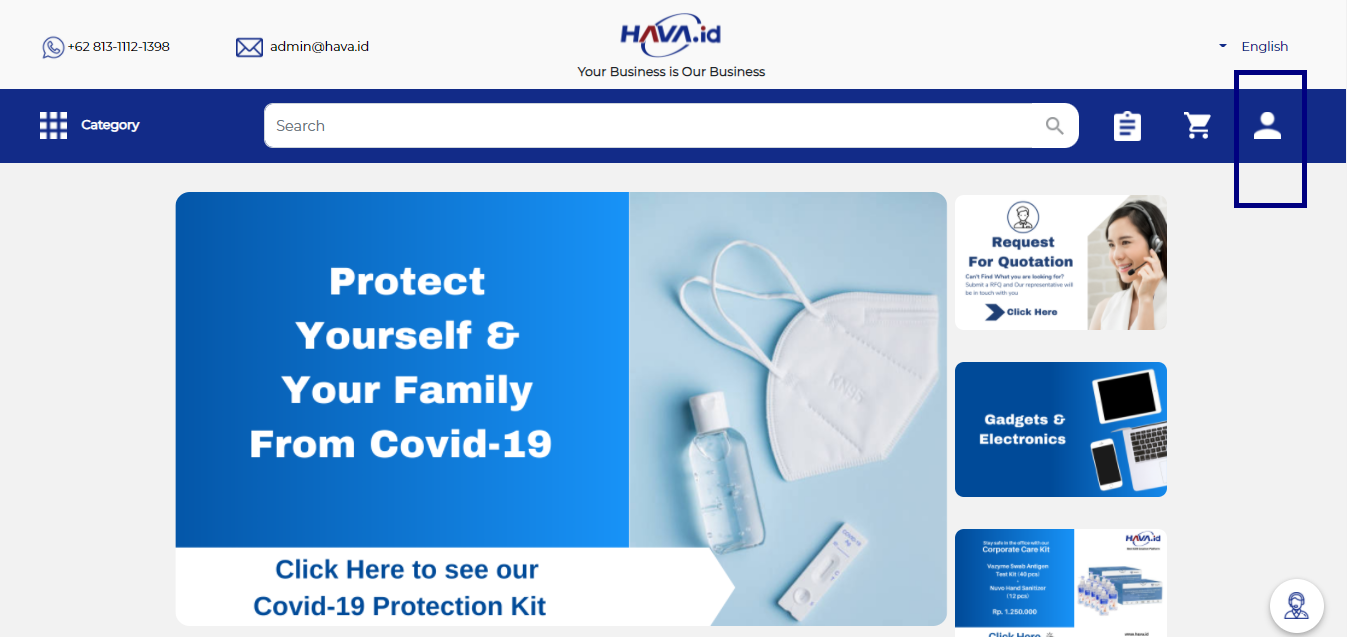 Click the "My Orders" button to see the list of order history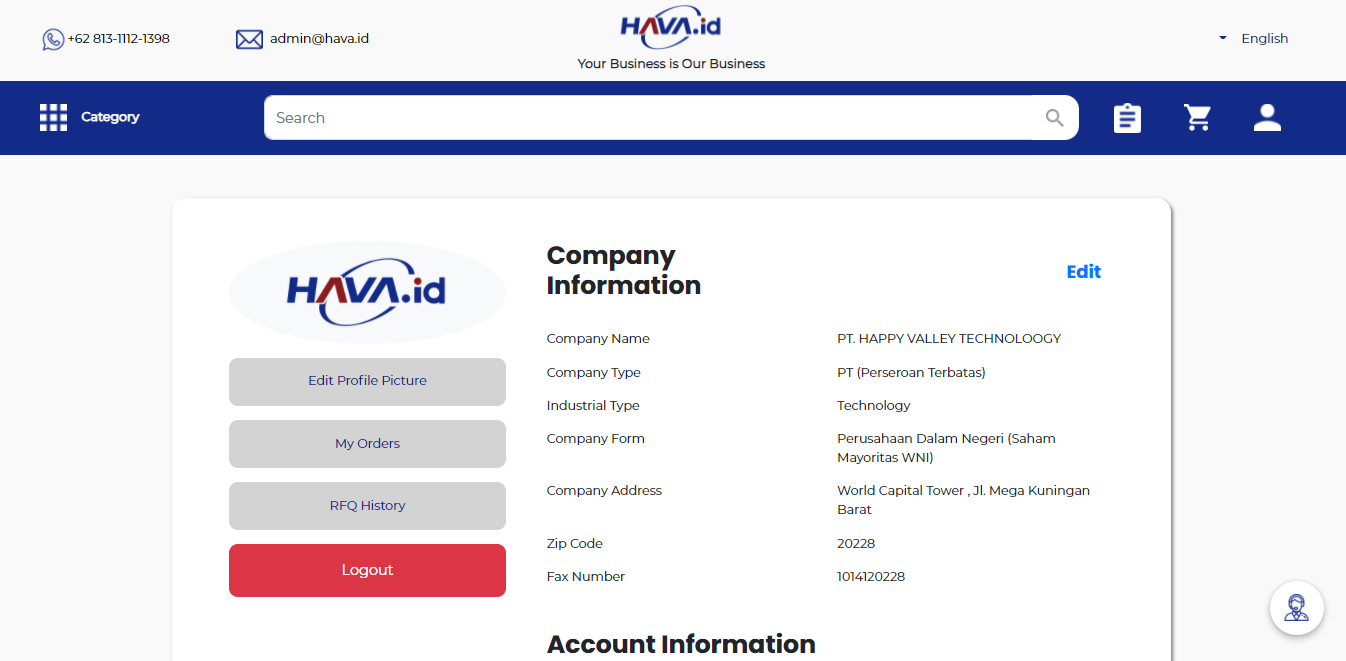 You can see the list of your order history in My Orders page, click the "Details" button to see more information about your order.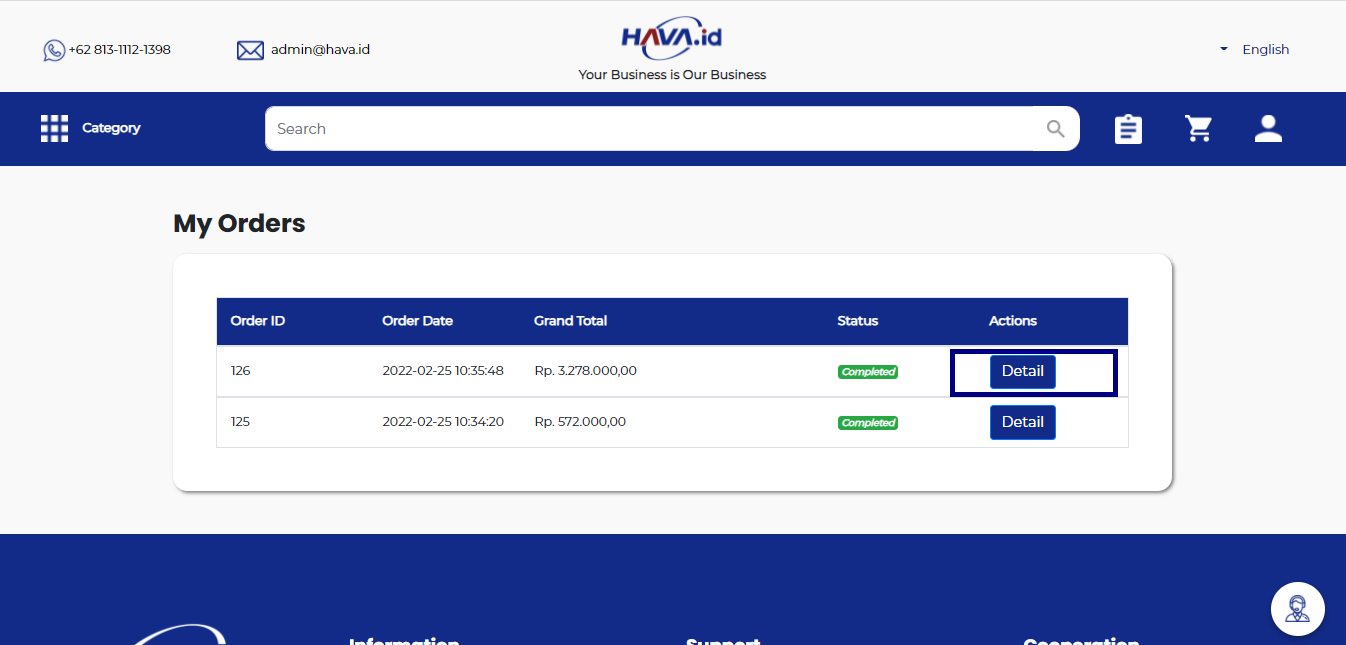 In "Order Details" page displays detail information of your order. You can see the status of your order by pressing the "Order Status" button.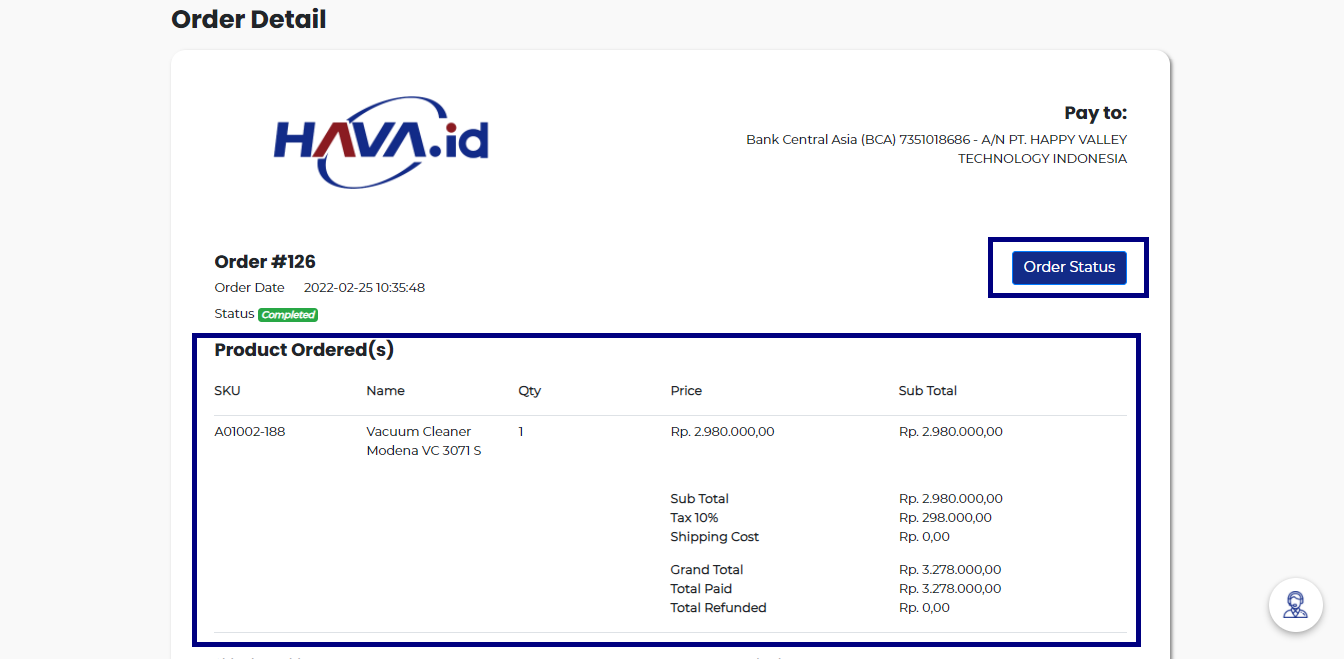 On this page you can see the status of your order.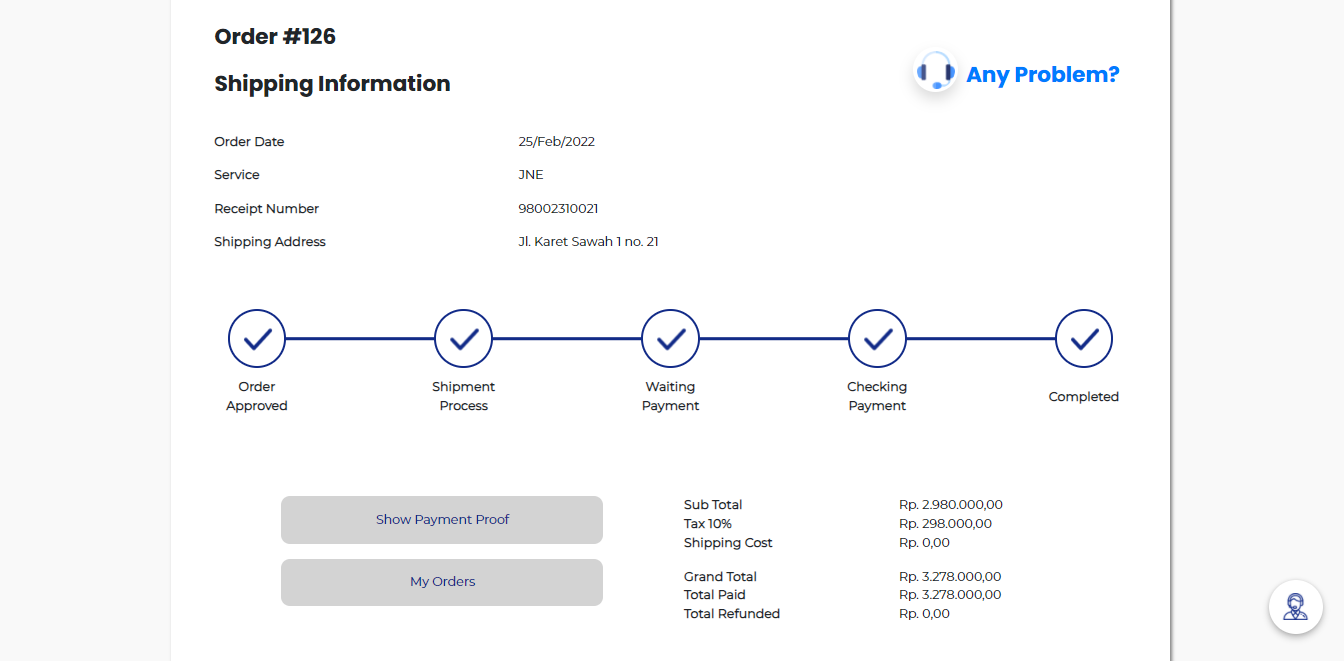 Customer Journey

After you place an order, our HAVA.id team will verify and approve your order
After your order approved, it will be sent to the address you entered
In the Waiting payment process, you can make a payment and upload your proof of payment
Our HAVA.id team will verify the proof of payment you uploaded.
Congratulations, your transaction process has been completed.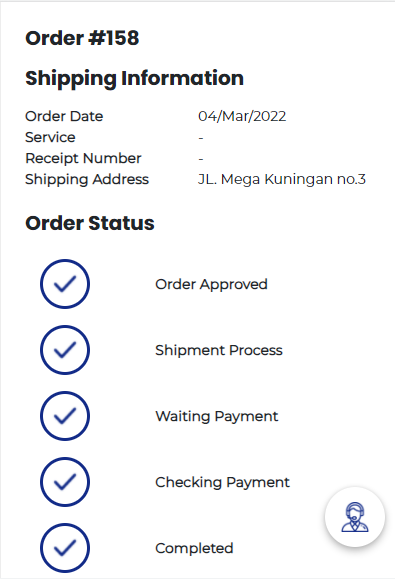 *Mobile Version
Transactions are simpler, easier and more convenient with HAVA.id :)
Business Development Team
Please talk to our business development team.
---
San san
Business Development Assistant Leaed
WhatsApp : (+62) 877 7713 3170
Email : sansan@hava.id
---
Kenny Gohan Siahaan
Business Development Executive
WhatsApp : (+62) 812 3125 8511
Email : kenny@hava.id
Credit Limit
What is HAVA.id credit limit?
Credit limit is one of the advantages of shopping from hava.id, as a buyer, you don't need to pay for the order directly, but you can use the credit first and pay later
How long is HAVA.id's term of payment?
You can make payments up to 30 days from the time your order is approved.
How do I check my credit limit nominal?
You can check your credit nominal on my profile page
What if my credit limit is not enough to make a transaction?
You can contact us at admin@hava.id / wa: 081311121398 to apply for an additional nominal credit limit. To apply for an additional credit limit, make sure you have made all payments.
What if I am late in making a payment?
If you are late in making a payment, your HAVA.id account will be frozen.
Does the credit limit have interest?
No interest at all
Traditional B2B Sales and Marketing Are Becoming Obsolete
Most B2B sales and marketing teams typically function in a "serial," or linear manner. Marketing engages prospective buyers early in their purchase journey, qualifying their readiness and fit for sales rep engagement through digital "content nurturing." Once those leads have been designated "marketing qualified," individual sellers take over, pursuing those leads through in-person or virtual interactions. In the middle is the "handoff," where marketing passes the baton to sales, and online customer engagement gives way to in-person customer engagement.
Even in more advanced "account-based marketing approaches" those linear "physics" remain largely unchallenged. First the marketing, then the sales. Or, more accurately, first scaled digital engagement, followed by targeted seller interaction. And the decades-long pursuit of tighter "sales and marketing integration" has centered on progressing deals along that journey as "seamlessly" as possible, eliminating "friction" and aligning metrics, data, and sometimes even incentives and reporting structures to ensures the handoff from digital to human selling is as efficient as possible.
The rise of digital B2B buying
For years, however, B2B buying has dramatically evolved to a far more digitally dominant buying behavior, rendering much of that commercial model not only out of date, but nearly obsolete.
Consider the following data from Gartner research: In a pre-pandemic survey of 750 B2B customer stakeholders involved in complex "solutions" purchase within their organization, customers reported spending only 17% of their total buying time interacting directly with supplier sales teams. Instead, much of their purchase activity comprised independent learning online (27%), independent learning offline (18%), and building consensus across a wide range of internal and partner stakeholders (22% and 11% respectively).
As small as it is, however, that 17% of purchase activity allocated to supplier interaction (both virtual and in-person), represents all suppliers, not each supplier. So, if three suppliers are competing for the same opportunity, one can assume customers divide that time roughly equally across all three, leaving any given sales team with a vanishingly small window of opportunity to interact directly with that customer — perhaps 5% or 6% of total buying time if they are lucky.
For many sales leaders, that dramatically small window of direct interaction represents the single biggest challenge their sales teams face today, an overall lack of access — and therefore lack of opportunity — to materially impact purchase deliberations and bend customer preference toward their company's unique offering.
As one head of sales put it, "We have very few 'at bats' to actually influence customer buying behavior." Put another way, today's typical B2B buying journey leaves supplier sales teams very little "surface area" for actual selling.
Multi-channel buying
Instead, today's B2B buyers rely heavily on digital information to support progress across their entire buying journey. In a survey of over 1,000 B2B buyers engaged in a complex purchase, respondents reported using digital channels — particularly the supplier's own website — with nearly equal frequency as the supplier's sales reps to gather the information necessary to complete a range of buying "jobs," e.g., Problem Identification, Solution Exploration, Requirements Building, and Supplier Selection. Ultimately, customers have become largely agnostic regarding where they find the information necessary to advance purchase deliberations.
In this sense, for sales leaders seeking to "regain customer access," it turns out customers never really wanted seller access in the first place. Instead, they sought out sales conversations not for the sake of the conversation itself, but as a practical means to acquire the information necessary to complete a specific set of buying jobs. Now that much of that information is available online, sales reps are no longer the channel to customers, but a channel to customers. And customers are "voting with their feet," leaving many sales reps struggling to provide sufficiently unique value to merit the additional time and effort of person-to-person sales interactions.
Despite individual sellers' struggle to remain relevant, however, organizational leaders will find in customers' channel agnostic buying behavior a critically important lesson for future commercial success: Helping today's B2B buyers buy isn't a sales challenge, nearly so much as an information challenge (or, alternatively, an information opportunity). The companies that best provide customers the information they most urgently seek, specifically through the channels they most clearly prefer, are in a far better position to drive commercial success in today's rapidly evolving digital commercial landscape.
www.hava.id
HAVA.id 1st Anniversary
It's been 1 year since HAVA.id first opened its doors back in 2022. Our mission has always been to simplify the procurement process, planning, sourcing, and order management with our open 360° E-procurement Solutions Platform, Professional Fulfillment, and B2B Financing.
We have been a leading provider of B2B procurement solutions and professional fulfillment services since the day we are launching, with nationwide coverage. We provide a full range of products and solutions for your business at the most competitive pricing.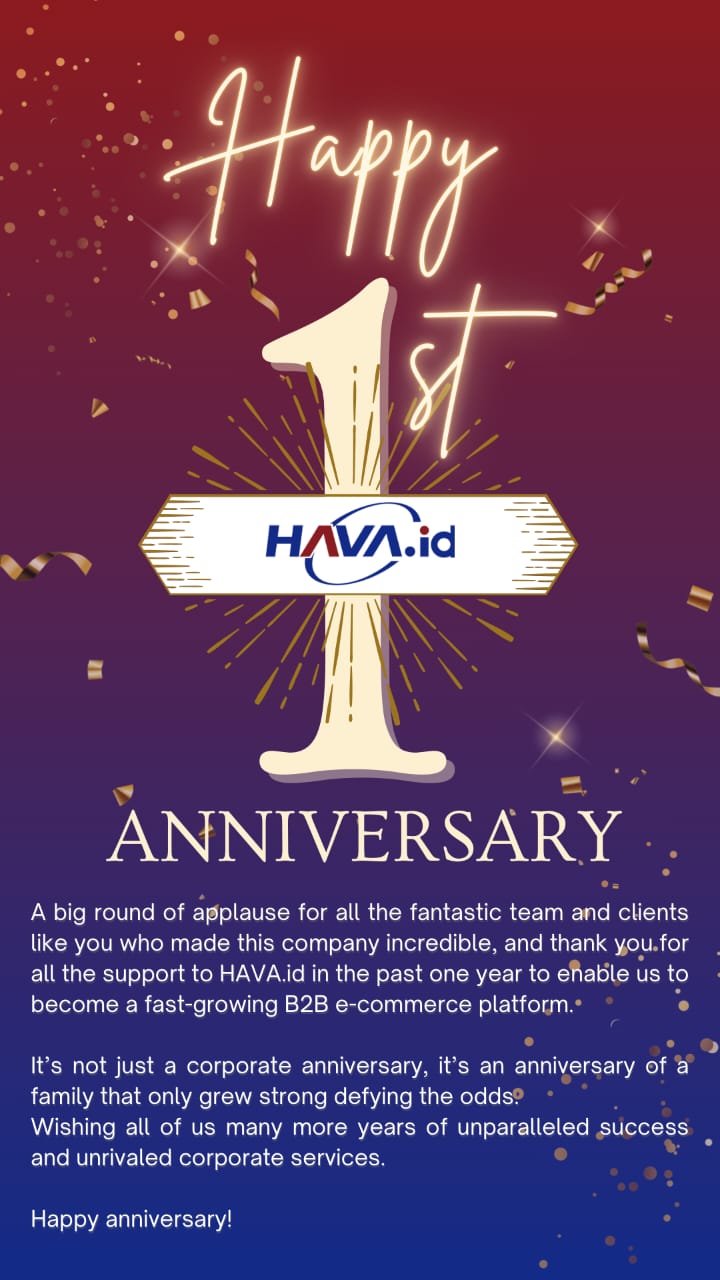 What Is Business-to-Business (B2B)?
What Is Business-to-Business (B2B)?
Business-to-business (B2B), also called B-to-B, is a form of transaction between businesses, such as one involving a manufacturer and wholesaler, or a wholesaler and a retailer. Business-to-business refers to business that is conducted between companies, rather than between a company and individual consumer. Business-to-business stands in contrast to business-to-consumer (B2C) and business-to-government (B2G) transactions.
Understanding Business-to-Business (B2B)
Business-to-business transactions are common in a typical supply chain, as companies purchase components and products such as other raw materials for use in the manufacturing processes. Finished products can then be sold to individuals via business-to-consumer transactions.
In the context of communication, business-to-business refers to methods by which employees from different companies can connect with one another, such as through social media. This type of communication between the employees of two or more companies is called B2B communication.
Special Considerations
Business-to-business transactions require planning to be successful. Such transactions rely on a company's account management personnel to establish business client relationships. Business-to-business relationships must also be nurtured, typically through professional interactions prior to sales, for successful transactions to take place.
Traditional marketing practices also help businesses connect with business clients. Trade publications aid in this effort, offering businesses opportunities to advertise in print and online. A business's presence at conferences and trade shows also builds awareness of the products and services it provides to other businesses.